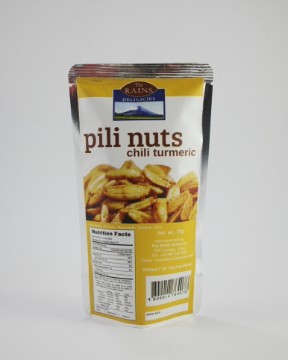 The Rains Delicacies Chili Turmeric Pili Nuts
Product Description:
A pack of whole kernel pili nuts with a sweet, savory and spicy taste. Coated with muscovado sugar and mixed turmeric and chili for that hint of spice; provides a healthier alternative to the deep-fried, sugar-coated version; rich in magnesium, vitamin E, protein, and other essential minerals; harvested from the pili trees grown in the mineral-rich, volcanic soil of Mayon Volcano.
Market Availability:
Worldwide
Ingredients/raw materials used:
Pili Nuts, Muscovado, Turmeric, Chili Powder
Process/es:
Dehydration / Drying, Baked
Sources:
Major Export Markets:
None
Certifications:
FDA-LTO/CPR
Packaging:
Aluminum Pouch
Category:
Organic And Natural, Snacks And Crispy Savory Food Products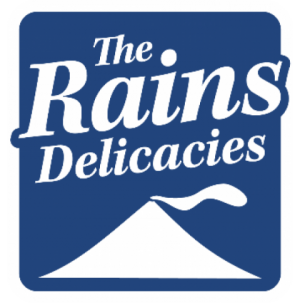 The RAINS Delicacies is a small company based in Albay, Bicol, Philippines that offers quality pili nut products and puts a unique spin of flavors to the classic pasalubong/souvenir snack. Our products are made from natural ingredients. Pili nuts are naturally rich in nutrients, great antioxidant... [Read more]
Instead of going out-of-town to enjoy Pampanga's pindang damulag or Malabon's puto pao, two individuals have made it possible to enjoy their city's specialties at the comfort of your own home.
It's a dessert in itself, with its bold sweetness, subtle tart, and fruity notes.
Taking a tour from north to south, one will discover that adobo varies not only in taste but also in the ingredients used and the cooking methods applied.