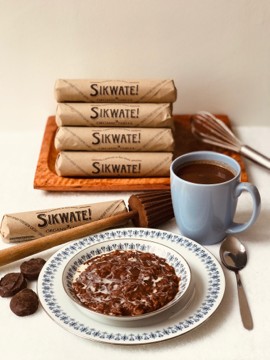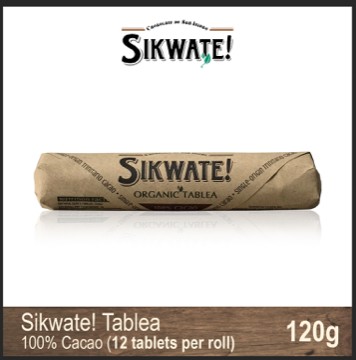 Cocoa Liquor / 'Tablea' Rolls
Product Description:
Our tablea (cocoa liquor) is made of 100% Single-Origin Trinitario cacao beans from the town of San Isidro, Davao del Norte.  We are known to be the preferred cacao ingredient of food processors for cakes and pastries, powdered chocolate drink mixes, champorado (chocolate rice porridge), cafe mocha drinks, and chocolates.  
Variants:
1 variant (100% cacao) - 120 grams
Market Availability:
ASEAN/ANZ
Net Weight per Pack:
120 Grams
Allergen:
Ingredients/raw materials used:
100% Cacao
Process/es:
Fermentation, Roasting, Grinding
Sources:
San Isidro, Davao Del Norte
Major Export Markets:
Australia, Japan
Packaging:
Products Are In PE Plastic And Wrapped In Kraft Paper
Minimum Order Size:
100 Pcs
Category:
Beverages, Fine Food And Specialties, Biscuits And Confectioneries, Organic And Natural, Raw Materials And Food Ingredients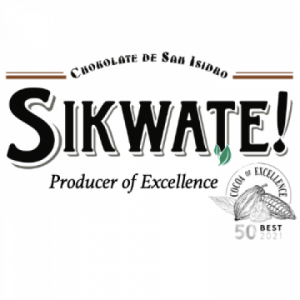 World's TOP 50 CACAO from the Town that Cacao Built, San Isidro, Davao del Norte In the 2021 Edition of the Cocoa of Excellence Programme, Chokolate de San Isidro (entry P032) bested 235 cocoa bean entries/samples from 53 origins/countries around the world to land in the... [Read more]
Instead of going out-of-town to enjoy Pampanga's pindang damulag or Malabon's puto pao, two individuals have made it possible to enjoy their city's specialties at the comfort of your own home.
It's a dessert in itself, with its bold sweetness, subtle tart, and fruity notes.
Taking a tour from north to south, one will discover that adobo varies not only in taste but also in the ingredients used and the cooking methods applied.