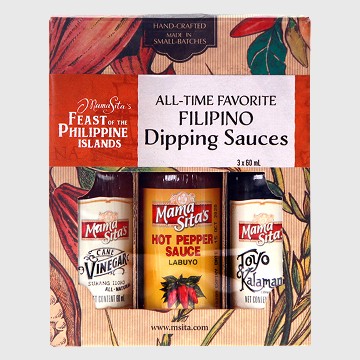 Mama Sita's All Time Favorite Filipino Dipping Sauce
Product Description:
Filipinos are passionate about dipping sauces, and Mama Sita herself brought cruets in her bag to be able to dip into a sauce wherever she would eat. A gift of our trio dipping sauces – Sukang Iloko, Labuyo Hot Sauce, Toyo't Kalamansi – sees to it that you cultivate our same love for dipping!
Market Availability:
Worldwide
Net Weight per Pack:
10 X (3 X 60 ML)
Ingredients/raw materials used:
"Cane Vinegar 60 ML Ingrediets: Sugarcane Juice Labuyo Hot Sauce 60 ML Ingredients: Hot Peppers, Cane Vinegar And Salt Toyo & Kalamansi 60 ML Ingredients: Water, Soy Sauce (water, Soybeans And Salt), Cane Sugar, Salt, Philippine Lemon Juice Extract, Modified Starch, Colour (E150a), Acidity Regulator (E330), Preservative (E211) And Flavour Enhancer (E631, E627) "
Process/es:
Sieving, Cooking, Homogenization, Bottling
Sources:
Major Export Markets:
None
Certifications:
FDA-LTO/CPR, HACCP, Halal, FSSC, GMP
Packaging:
Minimum Order Size:
Category:
Raw Materials And Food Ingredients, Fine Food And Specialties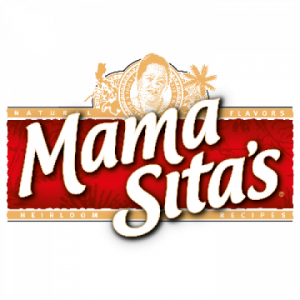 At the heart of a great childhood memory, there's usually a busy kitchen, a warm stove, a simmering pot, and a loving mom. As the eldest child in her family, Teresita 'Mama Sita' Reyes grew up collecting invaluable lessons in kitchens in marketplaces, farms, and wayside eateri... [Read more]
Instead of going out-of-town to enjoy Pampanga's pindang damulag or Malabon's puto pao, two individuals have made it possible to enjoy their city's specialties at the comfort of your own home.
It's a dessert in itself, with its bold sweetness, subtle tart, and fruity notes.
Taking a tour from north to south, one will discover that adobo varies not only in taste but also in the ingredients used and the cooking methods applied.