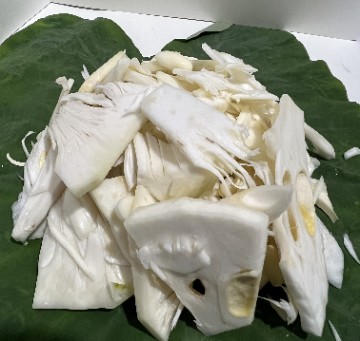 Jackfruit (Langka)
Product Description:
Unripe jackfruit has a mild flavor and meat-like texture and is used in curry dishes with spices in many cuisines. The skin of unripe jackfruit must be peeled first, then the remaining jackfruit flesh is chopped into edible portions and cooked before serving.
Variants:
sliced , tender
Market Availability:
Europe, Middle East & Africa
Net Weight per Pack:
250g
Allergen:
PEOPLE WITH LATEX SENSITIVITY SHOULD AVOID THIS
Ingredients/raw materials used:
Fresh Jackfruit
Process/es:
Sliced, Wash, Packed
Shelf Life:
7-14 Days Under Chilled Temperature
Major Export Markets:
Kuwait, Saudi Arabia
Certifications:
FDA-LTO/CPR
Packaging:
5 Kilos Per Box
Minimum Order Size:
500 Kgs Mixed Items
Category:
Beverages, Organic And Natural, Raw Materials And Food Ingredients
Instead of going out-of-town to enjoy Pampanga's pindang damulag or Malabon's puto pao, two individuals have made it possible to enjoy their city's specialties at the comfort of your own home.
It's a dessert in itself, with its bold sweetness, subtle tart, and fruity notes.
Taking a tour from north to south, one will discover that adobo varies not only in taste but also in the ingredients used and the cooking methods applied.