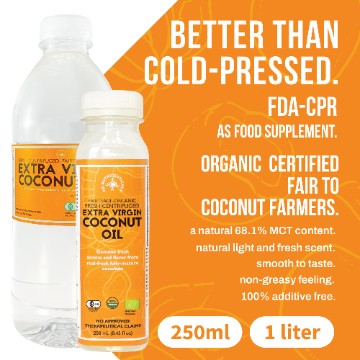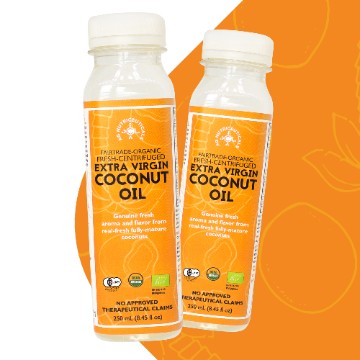 ORGANIC FRESH CENTRIFUGED VIRGIN COCONUT OIL
Product Description:
Experience farm fresh virgin coconut oil! 48-HOUR FRESHNESS GUARANTEE: It is tree to oil in 48 hours processed using our proprietary fresh-centrifuged technology. FRESH & MILD AROMA AND TASTE: Preserves the true aroma, flavor, texture, and nutrients of freshly-harvested virgin coconut oil from organic coconuts. PRESERVES MORE THAN 4X NATURAL ANTIOXIDANTS: Based on an ORAC test, we scored 4x more natural antioxidants compared to the common coconut oil in the market. HIGH CONTENT OF LAURIN, MCT, AND OLEIN OILS: 62-64% MCT and 50% laurin. ORGANIC-CERTIFIED: Follows stringent international standards from the US, Japan, and Europe.
Variants:
260ml, 400ml, 300ml, 200L, 20L, 1000L, custom packaging
Market Availability:
Worldwide
Net Weight per Pack:
250ml
Allergen:
Ingredients/raw materials used:
Organic Coconuts From The Philippines
Process/es:
Bottling, Dehydration / Drying, Fresh - Centrifuge Extraction
Sources:
Davao Del Sur, Philippines
Major Export Markets:
Germany, Italy, South Korea, South Korea
Certifications:
FDA-LTO/CPR, HACCP, Organic
Minimum Order Size:
5 Boxes (24/box)
Category:
Organic And Natural, Raw Materials And Food Ingredients, Fruits And Vegetables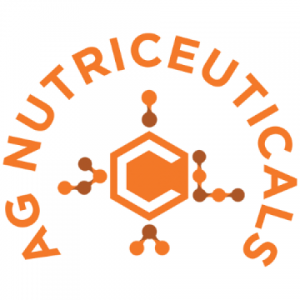 A Filipino-owned corporation registered with the Securities Exchange Commission on July 17, 2005, with registration number CS 200512340, licensed by the Philippine Food and Drugs Administration (FDA) to produce food, food supplements, and virgin coconut oil with a Lice... [Read more]
Instead of going out-of-town to enjoy Pampanga's pindang damulag or Malabon's puto pao, two individuals have made it possible to enjoy their city's specialties at the comfort of your own home.
It's a dessert in itself, with its bold sweetness, subtle tart, and fruity notes.
Taking a tour from north to south, one will discover that adobo varies not only in taste but also in the ingredients used and the cooking methods applied.