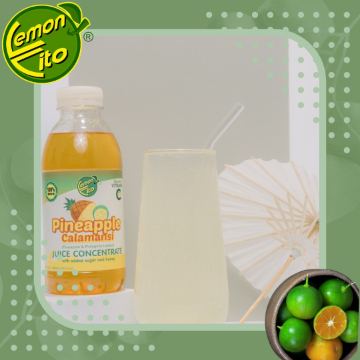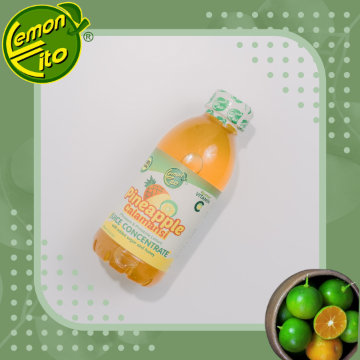 Pineapple Calamansi Juice Concentrate With Honey
Product Description:
"Pineapple and calamansi come together in this bright, citrusy drink that's rich in Vitamin C and antioxidants. A drink made with this juice concentrate can boost the immune system, is anti-inflammatory, and is loaded with nutrients. It also contains no preservatives and no additives. To drink the concentrate, mix two to three tablespoons with a glass of hot or cold water. You can also use the concentrate as a marinade or for salad dressing. A 750-gram/500mL bottle contains 12 to 15 servings. The minimum order of Pineapple Calamansi Juice Concentrate with Honey is 50 boxes. "
Variants:
500ml, Pineapple-Calamansi
Market Availability:
ASEAN/ANZ, East Asia, Americas
Net Weight per Pack:
750g 12-15 Servings
Allergen:
Ingredients/raw materials used:
Pineapple, Calamansi, Sugar, Honey
Process/es:
Pasteurization
Major Export Markets:
Singapore, United States of America
Certifications:
FDA-LTO/CPR, GMP
Minimum Order Size:
Category:
Beverages, Beverages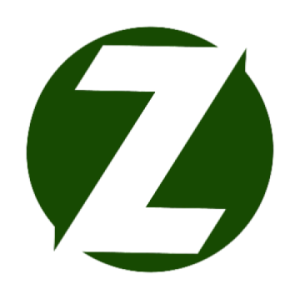 As cliche as it may sound, lots of great things do come from small beginnings. Our flagship product, Lemoncito Calamansi Juice Concentrate, comes from a tiny round fruit— the Philippine Lime, locally known as calamansi. Likewise, our company had humble beginnings. ... [Read more]
Instead of going out-of-town to enjoy Pampanga's pindang damulag or Malabon's puto pao, two individuals have made it possible to enjoy their city's specialties at the comfort of your own home.
It's a dessert in itself, with its bold sweetness, subtle tart, and fruity notes.
Taking a tour from north to south, one will discover that adobo varies not only in taste but also in the ingredients used and the cooking methods applied.