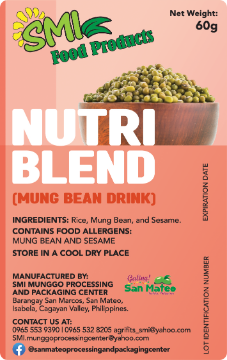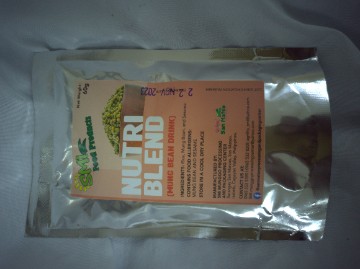 NUTRIBLEND KID'S FOOD (RICE MUNGGO SESAME BLEND)
Product Description:
NUTRIBLEND KID'S FOOD (RICE MUNGGO SESAME BLEND)- is a complementary foods technology developed by DOST FNRI used in various feeding programs, -Developed by Food and Nutrition Research Institute (FNRI) and Department of Science & Technology (DoST), this rice monggo sesame complimentary food blend ensures that babies from six months or when they start weaning, has been proven highly effective in giving proper nutrition to help avoid malnutrition. Ready-to-cook blend ✓contains 130 kcal (energy) and 4 grams protein per 30 grams serving portion ✓Adequate to provide 18 % of recommended energy and 28.6 % of recommended protein intake of 6 months to <10 months old children
Market Availability:
Net Weight per Pack:
100g
Allergen:
Sesame Seeds, Mung Bean
Ingredients/raw materials used:
Rice, Munggo, Sesame
Major Export Markets:
None
Certifications:
FDA-LTO/CPR
Packaging:
Pet, Foil Packaging
Minimum Order Size:
24 Packs
Category:
Beverages, Cereals, Grains And Starch, Organic And Natural, Organic And Natural, Fine Food And Specialties
Instead of going out-of-town to enjoy Pampanga's pindang damulag or Malabon's puto pao, two individuals have made it possible to enjoy their city's specialties at the comfort of your own home.
It's a dessert in itself, with its bold sweetness, subtle tart, and fruity notes.
Taking a tour from north to south, one will discover that adobo varies not only in taste but also in the ingredients used and the cooking methods applied.