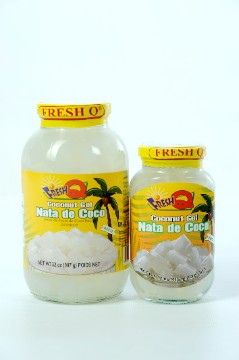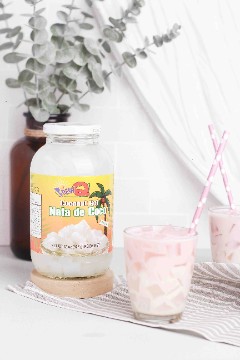 Fresh Q Nata De Coco White
Product Description:
Nata De Coco also known as coconut gel. A chewy, translucent, sweet aroma with slight banana smell and with coconut flavor. Can be used as an ingredient as well for fruits salads, halo-halo, ice creams, bubble teas and yogurt. Available in translucent white, bright green and bright red.
Variants:
32oz 907 grams, 12oz 340grams, 24oz 600grams
Market Availability:
Net Weight per Pack:
340G, 907G
Ingredients/raw materials used:
Nata De Coco, Refined Sugar, Water, Sodium Benzoate As (Preservatives) , Artificial Banana Flavor, Sodium Metabisulfite (antioxidant)
Process/es:
Bottling, Pasteurization
Major Export Markets:
None
Certifications:
FDA-LTO/CPR, Halal
Minimum Order Size:
30 Cases
Category:
Fruits And Vegetables, Fruits And Vegetables
Instead of going out-of-town to enjoy Pampanga's pindang damulag or Malabon's puto pao, two individuals have made it possible to enjoy their city's specialties at the comfort of your own home.
It's a dessert in itself, with its bold sweetness, subtle tart, and fruity notes.
Taking a tour from north to south, one will discover that adobo varies not only in taste but also in the ingredients used and the cooking methods applied.