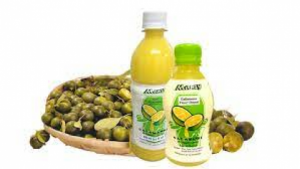 SOYUZ FOODS INTERNATIONAL INC.
Soyuz Foods International Incorporated has been in the business of producing Philippine fruit purees that have no additives and preservatives and meet international standards.
Their star products come from Calamansi, which is considered one of the major fruit crops in the Philippines. It's indigenous to the country and is available all throughout the archipelago. It has many health benefits; it boosts the immune system, soothes acidity, aids in weight loss, stimulates growth and repair, bleaches the skin, detoxifies the body, lowers cholesterol, manages diabetes, and gives relief from respiratory infections among others.
Also known as Philippine lime, calamansi has high amounts of essential nutrients, namely, calcium, iron, magnesium, sodium, and zinc.
The company was formed by professionals in the fields of marketing, production and exporting with a vision to deliver top-quality Philippine native Calamansi (Citrofortunella Microcarpa) and other citrus fruits in single-strength, concentrated and powdered form for the international market.
Soyuz Foods International Incorporated also works with farmer groups and agricultural entrepreneurs through sustainable development initiatives. This is to improve their living conditions and minimize poverty in the farming sector while maintaining production supply
Driven by constant innovation, they also work with the government's research and development institution, DOST Industrial Technology Development Institute, to identify, test and develop processes and packaging that would allow the calamansi to be exported with a prolonged shelf life of at least 1 year at room temperature, without the need for freezing, refrigeration or artificial preservatives.
Soon, Soyuz Foods International, Inc. plans to similarly conduct research on other Philippine produce and enlarge its portfolio of fruit purees and extracts.
ABOUT THE COMPANY
Company Name:
SOYUZ FOODS INTERNATIONAL INC.
Company Website:
In Business Since:
2006
Nature of Business:
Manufacturing - Direct Exporter
Major Product Categories:
Beverages
Instead of going out-of-town to enjoy Pampanga's pindang damulag or Malabon's puto pao, two individuals have made it possible to enjoy their city's specialties at the comfort of your own home.
It's a dessert in itself, with its bold sweetness, subtle tart, and fruity notes.
Taking a tour from north to south, one will discover that adobo varies not only in taste but also in the ingredients used and the cooking methods applied.