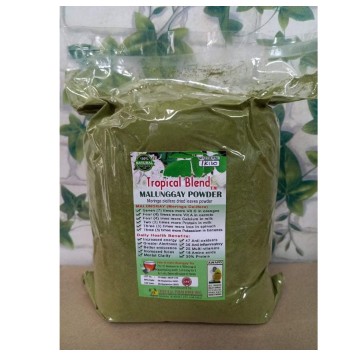 Malunggay Powder
Product Description:
Moringa (Moringa Oleifera) has a high nutritional value because of the presence of vitamin A, B, C, Calcium, Potassium, Iron, Protein and other nutrients that are beneficial to mankind. It used to combat malnutrition  Other Benefits: Improves Blood Circulation Can Increase Breast Milk Production
Market Availability:
Worldwide
Net Weight per Pack:
1 Kilo
Allergen:
Ingredients/raw materials used:
Malunggay Leaves
Process/es:
Dehydration / Drying, Powdering
Major Export Markets:
China, Czech Republic, Japan, South Korea, South Korea
Category:
Fine Food And Specialties, Organic And Natural, Organic And Natural, Beverages, Equipment and Services
Instead of going out-of-town to enjoy Pampanga's pindang damulag or Malabon's puto pao, two individuals have made it possible to enjoy their city's specialties at the comfort of your own home.
It's a dessert in itself, with its bold sweetness, subtle tart, and fruity notes.
Taking a tour from north to south, one will discover that adobo varies not only in taste but also in the ingredients used and the cooking methods applied.