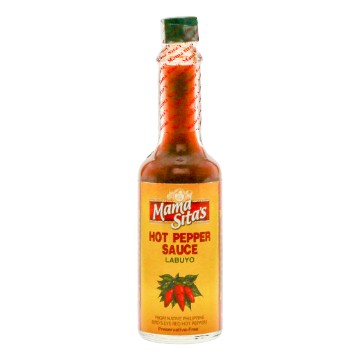 Mama Sita's-Labuyo Hot Pepper Sauce
Product Description:
A little goes a long way with a spicy hot sauce created using a small but very hot wild chili pepper. Mama Sita's Labuyo Hot Pepper Sauce contains no preservatives—just pure heat and delight! Use it at table to add heat to any dish or in the kitchen as a quick way to add a spicy-hot kick to what's cooking.
Market Availability:
Worldwide
Net Weight per Pack:
Null
Allergen:
Ingredients/raw materials used:
Hot Peppers, Cane Vinegar And Iodized Salt
Process/es:
Sieving, Cooking, Homogenization, Bottling
Sources:
Major Export Markets:
Australia, Canada
Certifications:
FDA-LTO/CPR, HACCP, Halal, FSSC, GMP
Packaging:
Minimum Order Size:
20-25 Cases
Category:
Fine Food And Specialties, Raw Materials And Food Ingredients
Instead of going out-of-town to enjoy Pampanga's pindang damulag or Malabon's puto pao, two individuals have made it possible to enjoy their city's specialties at the comfort of your own home.
It's a dessert in itself, with its bold sweetness, subtle tart, and fruity notes.
Taking a tour from north to south, one will discover that adobo varies not only in taste but also in the ingredients used and the cooking methods applied.