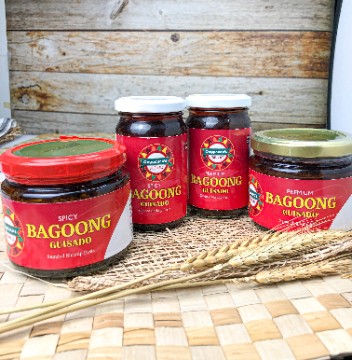 ONGPAUCO'S ORIGINALS SAUTEED SHRIMP PASTE 350G PREMIUM / SPICY
Product Description:
Ginisang Bagoong (Sauteed Shrimp Paste) is the typical Philippine condiment made from small shrimps that are fermented and sauteed to produce a paste-like condiment.
Variants:
350G, PREMIUM, SPICY
Market Availability:
ASEAN/ANZ, East Asia, Europe, Middle East & Africa, Americas
Net Weight per Pack:
350G
Ingredients/raw materials used:
Sauteed Shrimp Paste, Corn Oil, Sugar, Vinegar, Onion, Garlic And Monosodium Glutamate (Flavor Enhancer), Chili Oil ( For Spicy Only)
Process/es:
Pasteurization
Major Export Markets:
Canada, South Korea, Taiwan, United States of America
Certifications:
FDA-LTO/CPR
Packaging:
Food Grace 300ml Multi Jar Flint - M7154
Minimum Order Size:
30 CASES
Category:
Fine Food And Specialties
Instead of going out-of-town to enjoy Pampanga's pindang damulag or Malabon's puto pao, two individuals have made it possible to enjoy their city's specialties at the comfort of your own home.
It's a dessert in itself, with its bold sweetness, subtle tart, and fruity notes.
Taking a tour from north to south, one will discover that adobo varies not only in taste but also in the ingredients used and the cooking methods applied.