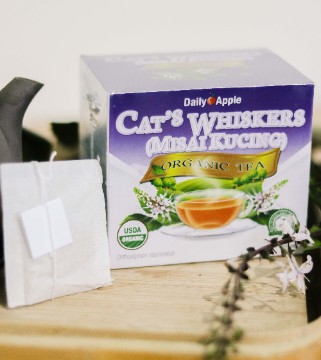 CAT'S WHISKERS TEA
Product Description:
Derived from the aerial parts of Cat's Whiskers (Orthosiphon stamineus) or Balbas Pusa, is popular herbal tea throughout south east asia. It is a powerful diuretic, which makes for a natural body fluid flush to detox and cleanses the body. It has been used extensively in traditional medicine for treating kidney stones, urinary tract infections, diabetes, hyperlipidemia, and various inflammatory diseases such as rheumatism and psoriasis.
Variants:
box of 14 teabag, teacut, pouch, kg
Market Availability:
Net Weight per Pack:
1.5g
Allergen:
Ingredients/raw materials used:
Processed Organic Cat's Whiskers
Process/es:
Dehydration / Drying, Drying, Grinding, Sieving, Tea Bagging, Packing
Sources:
Major Export Markets:
None
Certifications:
FDA-LTO/CPR
Packaging:
Teacut, Pouch, Box
Minimum Order Size:
Category:
Beverages, Fine Food And Specialties, Organic And Natural
Instead of going out-of-town to enjoy Pampanga's pindang damulag or Malabon's puto pao, two individuals have made it possible to enjoy their city's specialties at the comfort of your own home.
It's a dessert in itself, with its bold sweetness, subtle tart, and fruity notes.
Taking a tour from north to south, one will discover that adobo varies not only in taste but also in the ingredients used and the cooking methods applied.