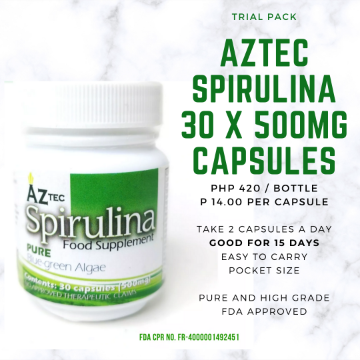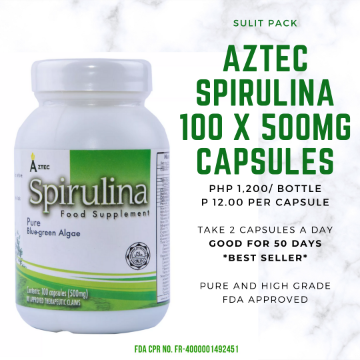 Aztec Spirulina Capsules
Product Description:
100% Pure High Grade each capsule consist of 500mg. pure and high grade spirulinas Suggested intake is only 2 capsules per day unlike other brands that requires more. Refined taste like squash seeds/ nori seaweeds because we only harvest the good spirulina. Safe and great for all ages and nursing mothers. 📍100% Natural 📍High in Protein 📍Low in Calories 📍Regulates Cholesterol 📍Anti-viral Effects 📍Boost Immunity 📍FDA Approved 📍No binders or additives 📍Produced in the Philippines 🇵🇭 #spirulinaph #superfood #natural #organic #multivitamins
Variants:
30 capsules, 100 capsules
Market Availability:
Worldwide
Net Weight per Pack:
50 Grams
Ingredients/raw materials used:
Spirulina
Process/es:
Bottling, Dehydration / Drying
Sources:
Own Produce / Farm
Major Export Markets:
Hong Kong, United States of America
Certifications:
FDA-LTO/CPR
Packaging:
P.e.t Medicine Bottle
Category:
Organic And Natural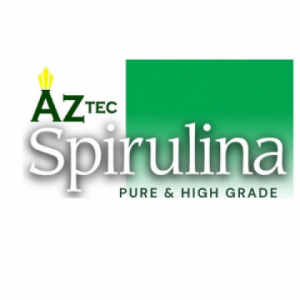 Started as a family owned Spirulina microfarm in Cainta Rizal in 2008, Eng. Pol Puente and his family saw the potentials of growing quality Spirulina due to its medical and health benefits, including the prevention and treatment of diseases. Based on scientific studies Spirulina has sever... [Read more]
Instead of going out-of-town to enjoy Pampanga's pindang damulag or Malabon's puto pao, two individuals have made it possible to enjoy their city's specialties at the comfort of your own home.
It's a dessert in itself, with its bold sweetness, subtle tart, and fruity notes.
Taking a tour from north to south, one will discover that adobo varies not only in taste but also in the ingredients used and the cooking methods applied.