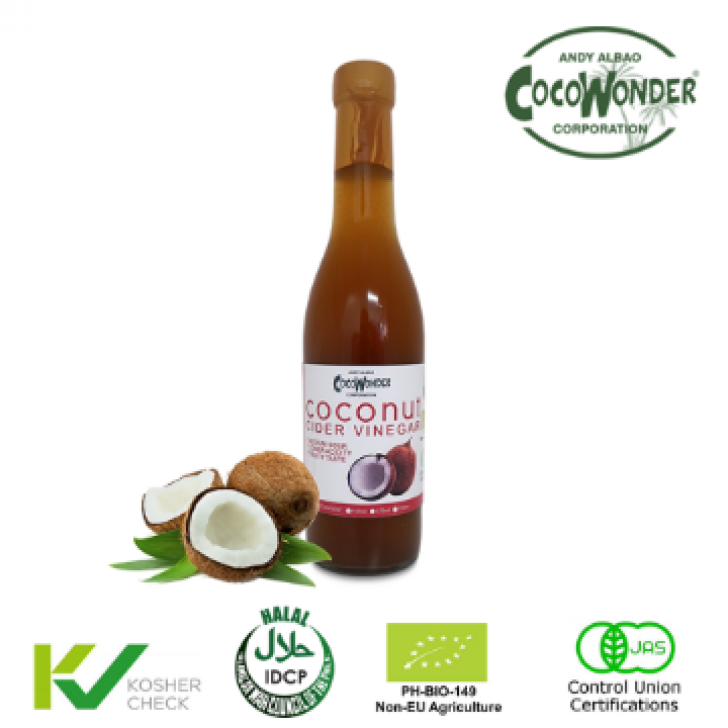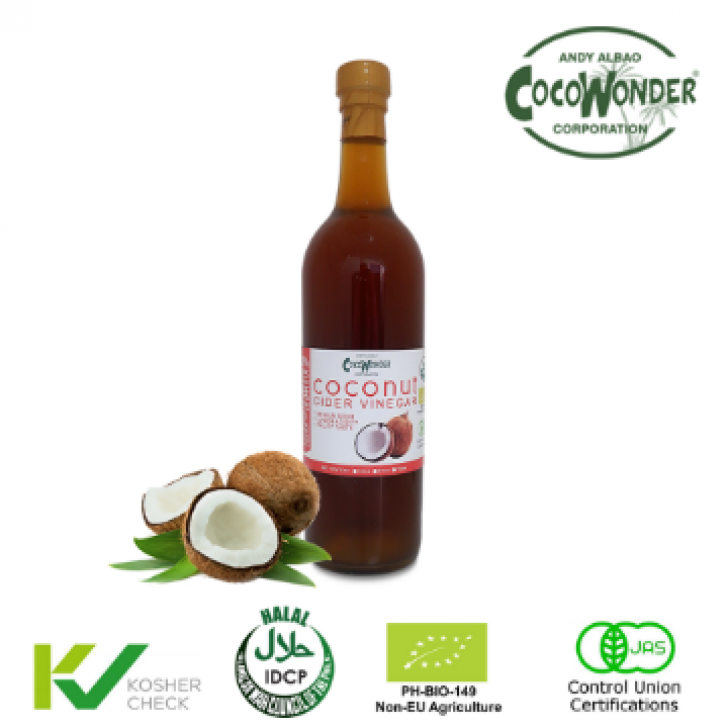 COCONUT CIDER VINEGAR
Product Description:
CocoWonder Unfiltered Certified 100% Organic COCONUT CIDER VINEGAR was produced from Sweet Young Coconut Water that processed through natural fermentation under specific length of time. COCONUT CIDER VINEGAR has delicious medium sourness with light fruity taste, has lower acidity, with yellow to orange brown color, no off taste and odor which considered as PREMIUM QUALITY.
Market Availability:
Worldwide
Net Weight per Pack:
375ML, 750ML
Ingredients/raw materials used:
COCONUT SAP & COCONUT WATER
Process/es:
Bottling, Fermentation
Major Export Markets:
Netherlands, New Zealand, Switzerland
Certifications:
FDA-LTO/CPR, Kosher, Organic, Halal
Minimum Order Size:
1 PALLET PER SKU
Category:
Fine Food And Specialties, Fruits And Vegetables, Organic And Natural, Organic And Natural
Export Ready?: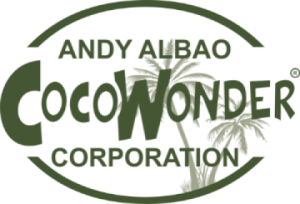 ANDY ALBAO CORPORATION - CocoWonder is a Family Corporation and in partnership with groups of coconut and cacao farmers and local workers in the countryside where their coconut & cacao raw materials are sourced out. Those farms are located in selected areas in the provinces such as Quezon Pro... [Read more]
Instead of going out-of-town to enjoy Pampanga's pindang damulag or Malabon's puto pao, two individuals have made it possible to enjoy their city's specialties at the comfort of your own home.
It's a dessert in itself, with its bold sweetness, subtle tart, and fruity notes.
Taking a tour from north to south, one will discover that adobo varies not only in taste but also in the ingredients used and the cooking methods applied.