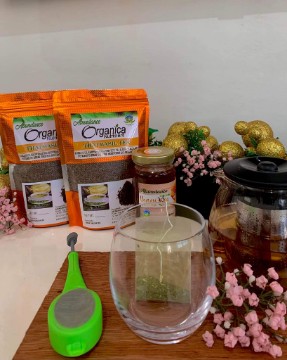 Thai Basil Loose Tea
Product Description:
100% Organic Thai Basil Certified by BAFPS. A delicious rejuvenating ayurvedic tea blend of aromatic nutriment herbs used for meditation and relaxation. Thai basil is amazing when consumed as tea. Not only is it delicious, but this fragrant tea has a lot of potential benefits for your health. High levels of vitamin A, which is beneficial for healthy eyes and skin. High in vitamin K, which promotes bone health. High level of vitamin C, calcium, iron, and potassium. Thai Basil is known for its essential oil that can help to lower cholesterol and triglycerides. The oils in the herb may help to fight bacteria in people with respiratory, urinary, abdominal, and skin infections. Thai Basil also contains magnesium, which can help to improve blood flow by allowing muscles and blood vessels to relax. Thai Basil contains high level of compounds like eugenol and limonene that block calcium channels that may help lower blood pressure. Thai Basil is full of anti-inflammatory properties that help lower the risk of inflammatory conditions such as arthritis. heart disease, and bowel issues. Thai Basil is full of antioxidant properties which may help to fight free radicals in the body that can otherwise lead to cell damage and increase your risk for a variety of health conditions, including cancer, heart disease, arthritis, and diabetes. PACKING: 150g per pouch. RECOMMENDED USAGE: With Tea Maker, one spoon full can make 12 cups of tea for optimum benefit. Best for hot tea or a cold tea. May add honey for flavor.
Variants:
150g per pouch, 17(H)x10(W)cm
Market Availability:
Worldwide
Net Weight per Pack:
130g
Allergen:
Ingredients/raw materials used:
100% Organic Certified Thai Basil
Process/es:
Dehydration / Drying
Major Export Markets:
None
Packaging:
100% Recyclable Or Compostable Stand Up Pouch/MOPP/VMPET/PE
Minimum Order Size:
1-pouch (130g/pouch)
Category:
Beverages, Beverages, Fine Food And Specialties, Organic And Natural
Instead of going out-of-town to enjoy Pampanga's pindang damulag or Malabon's puto pao, two individuals have made it possible to enjoy their city's specialties at the comfort of your own home.
It's a dessert in itself, with its bold sweetness, subtle tart, and fruity notes.
Taking a tour from north to south, one will discover that adobo varies not only in taste but also in the ingredients used and the cooking methods applied.