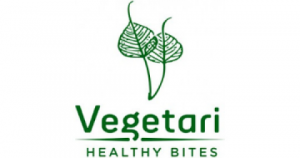 VEGETARI VEGETARIAN PRODUCTS
Established in 2005 by Arvin Kisig G. Lopez, Vegetari Healthy Bites is committed to offering healthy, vegetarian snacks that not only taste great but are also good for the body.
Before Vegetari, Lopez was already offering seaweed tempura chips as one of the appetizers at his vegetarian restaurant, Satya Graha Cafe and Restaurant in Laguna. But the idea to create a line of vegetarian and vegan snacks only came to him when he was invited by the Association of Laguna Food Processors (ALAFOP) to join a food bazaar. He first offered a yummy array of dishes from vegetarian lechon kawali to cookies and brownies, but he hit the jackpot when he developed his seaweed tempura chips into a snack that can serve as an alternative to the usual chips offered in the market.
Today Vegetari offers guilt-free and tasty nori and mushroom snacks. Their Sunakku Mushroom Cracklings are "mushrooms in disguise" with rehydrated shiitake mushrooms coated in gluten-free and non-GMO flour and fried in pressed coconut oil. Thanks to its intensified umami flavor, the "chichashroom" is as equally addicting as your usual pork chicharron but lighter and better for your body.
If you enjoy the tasty brininess of nori, you'll love Vegetari's Sunakku Seaweed Cracklings. The "nori seacharon" are made with roasted organic seaweed that is coated in gluten-free and non-GMO flour before being fried in pressed coconut oil until crispy. You'll surely fall in love with the Seaweed Cracklings' addictive crispiness and savory-salty flavor—they're meatless but definitely not flavorless!
All Vegetari snacks are completely vegan, zero trans fat, and no preservatives. They are also gluten-free and non-GMO.
ABOUT THE COMPANY
Company Name:
VEGETARI VEGETARIAN PRODUCTS
Company Website:
In Business Since:
2013
Major Product Categories:
Fine Food and Specialties
Current Export Markets:
Australia, Dubai, US
Instead of going out-of-town to enjoy Pampanga's pindang damulag or Malabon's puto pao, two individuals have made it possible to enjoy their city's specialties at the comfort of your own home.
It's a dessert in itself, with its bold sweetness, subtle tart, and fruity notes.
Taking a tour from north to south, one will discover that adobo varies not only in taste but also in the ingredients used and the cooking methods applied.