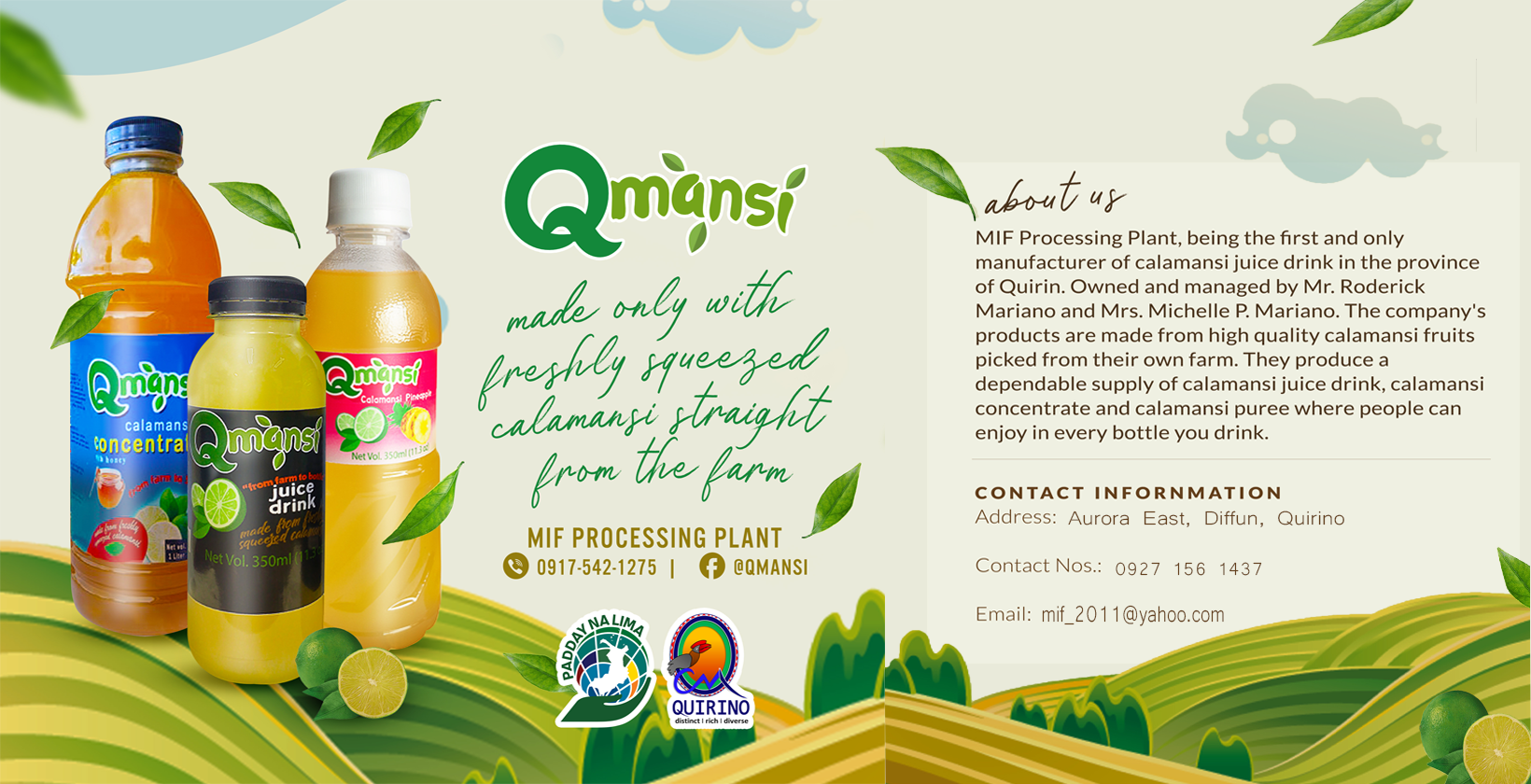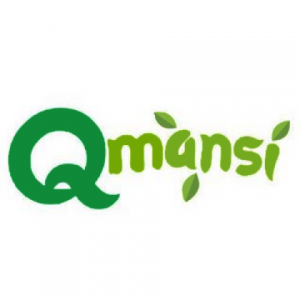 MIF PROCESSING PLANT
ABOUT US
MIF Processing Plant has been established to process healthy fruit products "fresh from farm to bottle" and / or suitable packaging. Partake in the government advocacy encouraging MSMEs to be a major contributory in the economic development of the country.
The country which is geographically located in a tropical climatic condition is abundant in various fruit products. During in-season harvest of various kinds of fruits enormous wastage is experienced by all farmers, besides the low cost of products due to excessive supply in the market.
In 2011, MIF has planted app. 4000 Calamansi Trees (Citrus microcarpa, Citrofortunella microcarpa or Citrofortunella mitis) due to the fact that this agricultural product is highly resistant to harsh weather condition of the region. After 2 to 3 years, the trees start to bear enormous fruits especially during in-season harvest wherein marketing has been always the challenge. For several years this condition has transpired. In 2015, through the aid of the internet advancement research has been done to discover other possibilities to convert the fruit products into marketable goods. Start of discovering processed products has been initiated by extracting fruits and selling it as puree in Metro Manila at the start.
The demand is minimal and still a lot of wastage was experienced. Formulation of concentrates has been initiated to preserve the juice extract longer. Concentrates has been transformed into juice and slowly introduced to consumers. The acceptability of the juice leads to mass production due to increasing and continuous demand from various clients.
Expansion of the company has then been deemed necessary, compliant to government rules and regulations has to be circumvent in the processing protocols and make the products nationally accepted and to venture into international market in the future. International standard laboratory tests for Nutrient Analysis protocols has been complied in preparation for the latter.
SUCCESS STORY
MIF PROCESSING PLANT
From a mere employee to setting up their own venture, these entrepreneurs found sweet success in a sour business
The story of QMANSI started in 2012 when Mr. and Mrs. Roderick and Michelle Mariano planted 4,000 trees of calamansi with the hope that it will help them in lifting their status of living. Life was never easy for them, they began as a mere employee of several company, became an Overseas Filipino Worker, then ventured in different lines of business like party needs, and auto supply, until they landed into integrated farming where their story of triumph begun.
After three years, it yielded desirable results with tons of calamansi fruits, it could have been a breakthrough for them, unfortunately, the excessive fruits have turned into enormous wastage. They did not know what to do with the fruits. It hurt them to see lots of calamansi that were just rotten away in an idle space. That dilemma went on; until one day, God has guided them towards a new direction.
They started extracting pure calamansi juice in 2016, sold it in Pasig City, Caloocan City, and other places. In 2017, they started to create concept of making a brand solely for Quirino Province after discovering a bigger picture for their calamansi business. Until a man in the person of Mr. George Colebra, a former DTI employee, assisted Mr. and Mrs. Mariano to come up with a feasibility study which later contributed to their qualification in the SET-UP project of the Department of Science and Technology (DOST).
From then, different interventions from various agencies like DTI came up their way. Through Provincial Director Ma. Sofia G. Narag, Mr. and Mrs. Mariano became a graduate of the Kapatid Mentor ME Program. After which, they were given hands-on assistance on the development of their brand Q Mansi through the One Town One Product (OTOP) Next Generation Project. The DTI through its Quirino Provincial Office provided first-hand assistance in the development of their packaging and labelling, until such time, they are already equipped for various food development certification programs.
Thus, the DTI enrolled and assisted them on the different food development certification programs like FDA-LTO, FDA-CPR and Halal, which was really a great help for their product to be more known and be more trusted.
However, the pandemic did not spare them. They had difficulty in the distribution of their products. They had challenges on delivery because drivers need to undergo quarantine after transport. Their production was hampered due to the imposed community quarantine. Their workers cannot report to work on a regular basis because of the absence of public transportation. However, it did not stop them, they adapted to the new normal, they engaged in E-commerce such as enrolment in Shopee and other online platforms. In fact, they were one of the participants in the First Virtual National Trade Fair. Further, their participation in the Google My Business made their brand more famous. With the help of Google My Business, a South Korea businessman was able to find her and make negotiations for a possible export deal. Further, this participation of Mariano to Google My Business which is a project in collaboration with the DTI, really opened the doors of Q Mansi for the international market.
From being sold only within Quirino Province, QMANSI has now reached various places across the country and soon across the continent.
Their first journey really sounded sour, like their raw material, calamansi, however with all the hardships and commitments of Mr. and Mrs. Mariano, partnered with the unending support of various NGAs like DTI, it is really impossible that they could not harvest what they call as their sweet success.
Currently, Q-Mansi's product comes in six variants, the Q Mansi Ready-to-Drink-Juice, Q Mansi Ready-to-Drink-Juice with Honey, Q Mansi with Pineapple Ready-to-Drink-Juice, Q Mansi Concentrate, Q Mansi Concentrate with Honey and Q Mansi Concentrate Pineapple.
ABOUT THE COMPANY
Company Name:
MIF PROCESSING PLANT
Company Website:
In Business Since:
2018
Nature of Business:
Food Manufacturing Industry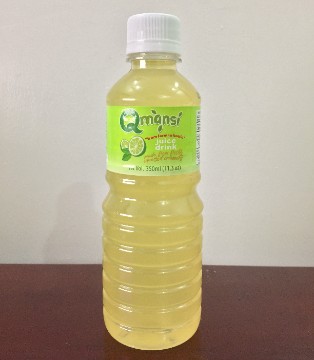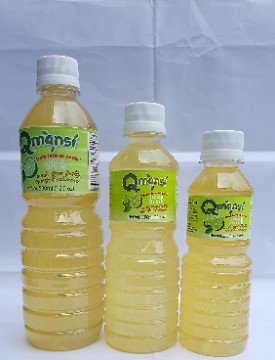 Instead of going out-of-town to enjoy Pampanga's pindang damulag or Malabon's puto pao, two individuals have made it possible to enjoy their city's specialties at the comfort of your own home.
It's a dessert in itself, with its bold sweetness, subtle tart, and fruity notes.
Taking a tour from north to south, one will discover that adobo varies not only in taste but also in the ingredients used and the cooking methods applied.